Ever heard of Meerhins? Normal. This first article will tell you why.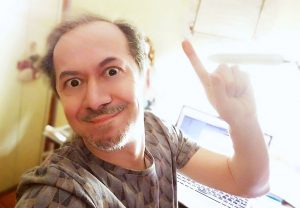 The saga Meerhins – Myrihandes in its original version – is the artwork of Guilhem Meric, a French author specialised in fantasy universes. He got the idea for the story in 2004, after discovering a song by Claire Pelletier, "The Aristophanes speech" about the origin of soulmates. A myth that has always fascinated him.
The creation of the Meerhins universe, the writing of the first volume, the script, then the development of the following books took many years. Especially since Guilhem Meric drew some of his characters and the first sketches of his universe himself.
More recently, in 2017, he made the bet to give rise to Meerhins in a transmedia form: through the books, of course, but also the many illustrations presented in the appendices, and the three albums composed for each volume. A dozen artists, gathered over the years, worked with him on this project, funded through three successive crowdfunding campaigns.

The story could have stopped there. But the author has decided to go further.
This critical success in France gave him the hope of appealing to an English-speaking readership. Because fantasy has its source in the English imagination. In its legends, folklore and traditions. In its most famous writers' works. Meerhins was born in France, but its story is intended for fantasy readers all around the world.
That's why we want to launch a great crowdfunding campaign in 2019 to help translating the novels… and to embark you with us on the adventure!
Share this news, talk about the project, join the Fan page on Facebook: we will create together a large community around Meerhins to issue the English version of the novels!